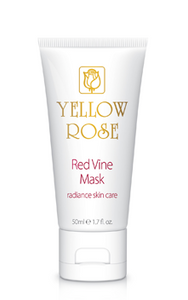 RED VINE MASK - 50ml
Regular price $28.00 Sale
RED VINE MASK
Revitalising, antioxidative and moisturising face cream mask.

Suitable for all skin types. 

Cleanses, oxygenates and gives the skin a brighter and radiant look.
Using this Product:
Use 1 to 3 times per week. Apply to clean skin a uniform layer over the face and neck. Avoid the eye contour area. Leave the mask on for 15 to 20 minutes. Remove it with water and tone the skin by using the appropriate Yellow Rose Lotion. Can be combined effectively with the other Yellow Rose Red Vine Radiance Skin Care Treatment products.
Main Ingredients:
Red Vine Leaf extract Rich in valuable nutrients and anti-oxidative flavonoids and polyphenols, this extract is a powerful antioxidant and skin toner. Lycopene Lycopene (naturally present in some red vegetables and fruits) is an excellent free radical scavenger, particularly those free radicals created by UV exposure (prolonged sun exposure). Protects from environmental stress and it is twice as effective as beta-carotene in fighting pollution damage. Special mixture of bioactive substances (Farnesol and Farnesol derivatives) Contributes to the revitalisation and oxygenation of the cells and stimulate the biosynthesis of the neo-collagen. Esters of Salicylic acid A patented active conjugate between natural ingredients derived from White Willow (Salix alba) and Cumin (Cuminum cyminum). They protect the skin and help it pursue its normal cycle. Esters of b-hydroxyacid Help the skin pursue its normal cycle and have an anti-inflammatory effect. Lanolin Moisturising and soothing factor. Vitamin C in Glycospheres These special microspheres protect Vitamin C from oxidation and help it penetrate the skin more easily. Vitamin C fights the free radicals makes the skin brighter and helps the biosynthesis of the Collagen. Zinc oxide Mild astringent with sedative properties. Contains also Lanolin and Vitamins A and E.