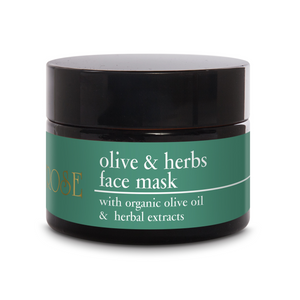 OLIVE & HERBS FACE MASK - 50ml
Regular price $32.00 Sale
OLIVE & HERBS FACE MASK - 50ml
Moisturising, nourishing and rejuvenating face cream-mask with organic extra virgin Olive oil, Olive leaf extract and dry Lavender, Orange, Calendula and Chamomile flowers.
Suitable for all skin types.
Dermatologically tested.
Using this Product:
Use 1 to 3 times per week. Apply a uniform layer to clean skin, face and neck. Leave the mask on for 20 minutes. Remove with dry soft tissue. Cleanse any remainders with Olive & Herbs micellar cleansing water.
Main Ingredients:
Organic extra virgin Olive oil, antioxidant Olive oil unsaponifiables, antioxidant extracts (Olive leaf, Everlasting, Rosemary and Sage), conditioning natural oils (Argan, evening Primrose, sweet Almond and Jojoba), firming extracts (Horsetail and Centella), soothing extracts (Marshmallow, Chamomile, Licorice and Calendula), toning Ruscus extract, dried flowers (Orange, Lavender, Chamomile and Calendula), moisturising γ-Linoleic acid (Ω6 essential fatty acid), Ceramides, Lycopene, Shea butter, Prickly Pear juice, Aloe vera gel, Phytosqualane, a-Bisabolol, Vitamins (E and C), plant Glycerin, Betaine, Panthenol, Allantoin, Chlorophyll and Mastic natural essential oil.