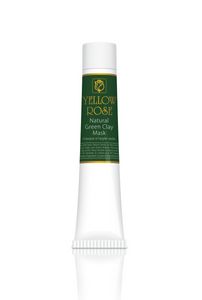 NATURAL GREEN CLAY MASK - 50ml
Regular price $28.00 Sale
NATURAL GREEN CLAY MASK
Face mask with natural green clay for combination and oily skins.

The natural ingredients have a purifying effect, decongest the pores and balance the level of sebaceous secretions, leaving the skin clean, toned and refreshed.
Using this Product: 
Use 1 to 3 times per week. Apply to clean skin a uniform layer over the face and neck. Avoid the eye contour area. Leave the mask on for 15 to 20 minutes. Remove it with water and tone the skin by using the Yellow Rose Lotion Astringente (A). Can be effectively combined with the other Acne-prone and Oily Skin Care products.
Main Ingredients:
Green Clay A natural bio-mineral used for centuries for its therapeutic properties. Contains many trace minerals and phyto-nutrients. It is very absorbent, detoxifies and removes dead skin cells, absorbs impurities and fats. Its toning action stimulates the skin by bringing fresh blood to damaged skin cells, revitalising the complexion, and tightening pores. Stimulates, also, the blood and lymph circulation and strengthens the connective tissues. Kaolin and Bentonite Natural minerals with excellent skin purifying properties. Propolis extract Extract from resinous gum collected by bees from plant buds and bark. Natural preservative with antibacterial and wound healing properties. Spirulina extract A natural extract from the algae Spirulina maxima. Photo-protective, it prevents free-radicals attack; anti-oxidative, due to the carotenoids and the vitamins (E); Nourishing and moisturising due to the high content of proteins and polysaccharides. Sea-Weed extract Seaweeds are rich in vital nutrients, trace elements, mineral salts (especially organic iodine), proteins and vitamins. Highly detoxifying, they nourish, moisturise and remineralise the skin. Hamamelis extract Witch hazel extract is a natural refresher and a gentle astringent, known for shrinking skin pores. Aloe Vera extract Moisturising and soothing. Cucumber extract Cooling and refreshing, its soothing action softens and relieves delicate, tired or stressed skin. Contains also Chlorophyll, Allantoin, Soy Lecithin, Lanolin, Vitamins A, C and E.