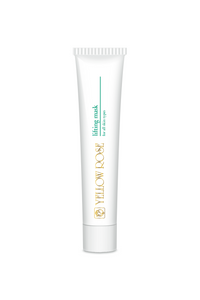 LIFTING MASK - 50ml
Regular price $45.00 Sale
LIFTING MASK
Special firming and toning mask for slack and tired skin types. 

It is based on natural active marine and herbal ingredients and has an immediate skin tightening result (Flash Lifting effect). 
Helps skin appear firmer and more youthful. 
Can be applied over face, neck and bust.
Using this Product:
Use 1 to 3 times per week. Apply to clean skin a uniform layer over the face and neck and bust. Avoid the eye contour area. Leave the mask on for 30 to 45 minutes. Before removing the mask, moisten it with a sponge and water so that it becomes softer. Remove it with a tissue or sponge and water and tone the skin by using the appropriate for the skin Yellow Rose Lotion (e.g. Lotion Tonique). Can be effectively combined with the other Yellow Rose LiftingTreatment products.
Main Ingredients:
Bentonite Natural clay with increased oil-absorbing properties that cleanses the skin and reduces oiliness. Albumen Main protein of the egg white. Forms a compatible to the skin moisturising film which firms and tones. Chitin derivatives A marine origin bio-polymer which forms a natural protective film with outstanding moisturising and regenerating properties Oat extract (Avena saliva) Anti-irritant and anti-inflammatory properties. Aloe Vera gel Moisturising, anti-inflammatory, wound healing and skin repairing factor. Menthol derivative Derived from peppermint with cooling, refreshing and toning properties.