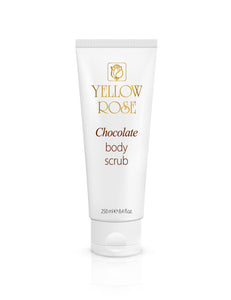 CHOCOLATE BODY SCRUB - 250ml
Regular price $45.00 Sale
CHOCOLATE BODY SCRUB
Moisturising, gel-based, exfoliating scrub with Cacao extract and butter. 
Helps remove dead skin cells and leaves skin soft and smooth.
Prepares the skin to receive the active ingredients of body slimming and firming treatments and especially of the Yellow Rose Chocolate Body treatment products.
Using this Product: 
Use as required. Apply to clean skin and massage with gentle circular movements. Remove the remainders with water. Can be combined effectively with the other Yellow Rose Chocolate Body products.
Main Ingredients: 
Exfoliating micro-granules Biodegradable fine micro-beads for body exfoliation. Cacao extract Natural extract from the Cacao tree (Theobroma cacao), rich in Caffeine and Theobromine that are used in slimming and anti-cellulite therapies because they help dissolve excessive fat and firm the skin. Cacao butter It is extracted from cacao seeds (Theobroma cacao beans) and has been used to keep skin soft and supple for centuries. It is one of the most stable, highly concentrated natural fats known. Cacao butter also helps retain the moisture level of the epidermis while it creates a natural barrier between sensitive skin and the environment. Grapefruit natural essential oil Tones the skin, boosts the lymphatic system and fights cellulite. Chamomile oil Used for its skin conditioning, soothing and anti-inflammatory properties. Jojoba oil Jojoba is a liquid wax highly penetrating and closely resembling human sebum. Emollient and moisturiser, soothes and treats damaged skin, leaving a non-greasy after-feel. Allantoin Nourishing, soothing and healing factor helps restore damaged skin and has anti-inflammatory properties.