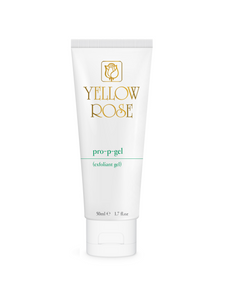 PRO - P GEL exfoliant - 50ml
Regular price $28.00 Sale
PRO - P GEL
Exfoliating gel based on AHAs and Salicylic acid.

Suitable for oily, problematic skin types (does not contain exfoliating granules).

Removes old lifeless surface cells so a refined new under-layer of skin can glow through.

Exfoliates and clears pores as it boosts skin"s oxygenating ability, increasing its capacity for holding moisture, improving tone and texture, and restoring its natural healthy glow and radiance.
Using this Product:
Use 1 to 2 times per week. Apply to clean skin avoiding the eye contour area. Allow it to act for 2 minutes. Massage gently with circular-upward movements for about 2 minutes. Remove the gel and tone the skin by using the appropriate Yellow Rose lotion. Can also be used also as a cleansing mask. Leave the gel to dry on skin for 10 minutes. Water-soak your fingers and remove the gel-mask by scrubbing.
Main Ingredients:
Fruit acids (Glycolic and Lactic acid) with exfoliating properties. Salicylic acid Micro-exfoliation and cellular renewal action. Removes dead cells clogging the follicle. Camphor Antiseptic, anti-inflammatory and skin refresher. Ideal for the treatment of oily and acne prone skin. Magnesium Aluminum Silicate Surfactant-free skin cleanser. Allantoin Nourishing, soothing and healing factor. Helps restore damaged skin and has anti-inflammatory properties.