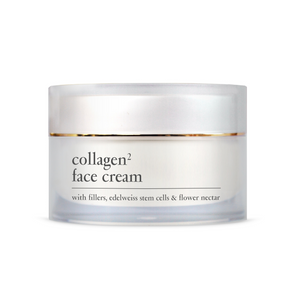 COLLAGEN^2 FACE CREAM - 50ml
Regular price $82.00 Sale
NEW - COLLAGEN2 FACE CREAM
Anti-wrinkle, moisturising and firming anti-ageing cream with natural fresh Collagen, Collagen fillers, Edelweiss stem cells and flower nectar.
Moisturises effectively, fights wrinkles and expression lines, firms and tones the skin, redefining the facial contour.
This exquisite rich and delicate formula is specially designed with a unique lightweight and soft texture, leaving the skin soft, calm and supple with a youthful brightness and luminosity.
Suitable for all skin types. 
Dermatologically tested.
Using this Product:
Use daily, morning and evening, on clean skin after Collagen2beauty elixir. Apply to face and neck with gentle circular-upward movements, focusing on wrinkles, expression lines and areas with loss of elasticity. Can be effectively combined with professional beauty equipment and the other Yellow Rose Collagen2 products.
Main Ingredients:
Natural soluble Collagen with 2 molecular weights Moisturisation, firmness and radiance. Collagen and Chondroitin fillers Immediate wrinkle plumping. Edelweiss stem cells Firming and anti-wrinkle action. Flower Nectar Antioxidant and moisturising properties. Anti-wrinkle and firming Oligopeptides Stimulate the natural synthesis of Collagen and Elastin in fibroblasts ('Retinol-like effect'). Oligopeptides against expression lines 'botox-like effect'. Silanols with hydroxyproline (basic Collagen constituent) Long term firming action.

Contains also moisturizing and firming Elastin, moisturising low molecular weight Hyaluronic acid, anti-wrinkle Avocado Phytosterols, antioxidant Olive leaf and White Tea extracts, firming liposomes with Centella extract, soothing extracts (White Waterlily, Chamomile, Boswellia serrata) antioxidative Olive oil unsaponifiables, conditioning Argan and Jojoba oils, moisturizing γ-linoleic acid (Omega6 essential fatty acid), Vitamins (C and E), Aloe vera gel, a-Bisabolol, Lanolin, Shea butter, naturally derived Palmitoylproline for radiance, whitening active from Chilean tree Boldo, Trehalose, Betain, Allantoin and Panthenol.