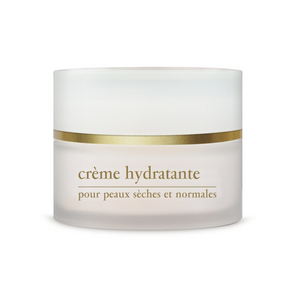 CREME HYDRATANTE pour peaux sèches et normales - 50ml
Regular price $35.00 Sale
CREME HYDRATANTE - 50ml
Moisturising day cream for normal and dry skin.

With soft and gentle texture, this cream preserves and enhances skin"s hydration, protecting its natural youth and elasticity.

Ideal make-up base.
Using this Product:
Use daily, morning and evening. Apply to clean skin and massage gently until absorbed. 
Main Ingredients:
Chamomile extract Used for its skin conditioning, soothing and anti-inflammatory properties. Azulene A very effective anti-inflammatory and soothing agent derived from the Chamomile. Wheat proteins Film-forming agent that moisturises and tightens skin. Hyaluronic acid Highly efficient moisturiser. Aloe Vera gel moisturising, anti-inflammatory, wound healing and skin repairing factor. Vitamin E Vitamin E is a strong anti-oxidant, protecting the skin from ageing and damaging due to free radicals. Vitamin A Vitamin A helps restore damaged skin and improves the condition of dry skin. It boosts the activity of the metabolic enzymes of the skin, rejuvenating and making it look fresh and healthy. Vitamin C A powerful anti-oxidant and inhibitor of melanin formation. Stimulates collagen production and promotes healthy looking skin.

Contains also d-Panthenol (pro-vitamin B5), Lanolin, Jojoba oil and Allantoin.