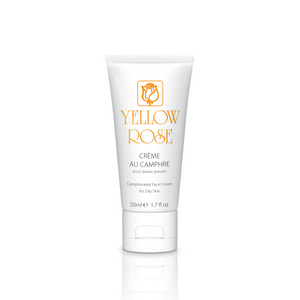 CREME AU CAMPHRE pour peaux grasses a problèmes - 50ml
Regular price $0.00 $28.00 Sale
CREME AU CAMPHRE
Special cream-mask for the treatment of oily and acne-prone skin.

Purifies and cleanses the skin while it helps balance the hydrolipidic layer of the skin leaving an oil-free matte finish.

It does not get absorbed and can be removed with Yellow Rose Lotion Astringente (A). Can also be used effectively after epilation. Soothes and calms the skin from irritation.

Can be combined effectively with the other Yellow Rose Acne-prone and Oily Skin Treatment products.
Using this Product:
Use as required after thorough cleansing on treated areas. Apply a small adequate quantity on isolated pimples or apply a thin layer all over a treated area. Leave it on for at least 30 minutes or as long as possible (even throughout the night). This cream does not get absorbed. Remove it with Yellow Rose Lotion Astringente (A) or with Yellow Rose Face Wash for Oily Skin.
Main Ingredients:
Salicylic acid Micro-exfoliation and cellular renewal action. Removes dead cells clogging the follicle. Camphor Antiseptic, anti-inflammatory and skin refresher. Ideal for the treatment of oily and acne prone skin. Zinc oxide Mild astringent with sedative properties. Thyme essential oil It has anti-bacterial, anti-microbial and antiseptic effect, yet mild to the skin. Tea Tree essential oil Essential oil obtained from the Australian Tea Trees (Malaleuca alternifolia). It is a natural germicide and anti-fungal and is employed for its antiseptic and anti-inflammatory activity for acne treatments.