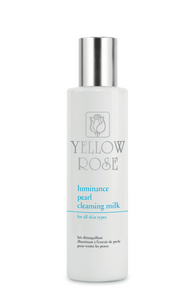 LUMINANCE PEARL CLEANSING MILK - 200ml
Regular price $28.00 Sale
LUMINANCE PEARL CLEANSING MILK
Moisturising and skin lightening Pearl cleansing emulsion, suitable to cleanse thoroughly all skin types.

This delicate purifying emulsion removes effectively makeup and other impurities, leaving the skin clean, soft and smooth. Can be effectively combined with the other Yellow Rose Luminance Pearl Face Treatment products.
Using this Product:
Use daily. Apply a small quantity to cotton pad and wipe gently over face and neck.
Main Ingredients:
Pearl extract An elegant active that offers radiance and overall skin clarity. Pearls consist mainly from Aragonite (calcium carbonate), traces of a protein called Conchiolin, mineral trace elements and aminoacids that take part in essential enzymatic and metabolic cellular reactions. According to traditional Chinese medicine, the valuable minerals and aminoacids from Pearl powder can nourish the skin and slow down ageing process by improving the metabolism, supporting moisturisation and protection against environmental stress. Niacinamide (Vitamin B3) Moisturises, stimulates natural Collagen biosynthesis and fights discolourations. Betaine (Trimethylglycine) Moisturising amino acid from Sugar beets. Trehalose Natural disaccharide with remarkable moisture retaining capacities. d-Panthenol (pro-vitamin B5) Improves and increases the moisture retaining ability of the skin (long-lasting moisturiser), it has wound healing effect and improves the normal keratinisation of the skin. Allantoin Nourishing, soothing and healing factor. Helps restore damaged skin and has anti-inflammatory properties.