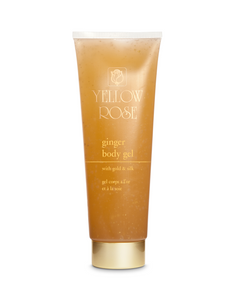 GOLDEN LINE - GINGER BODY GEL - 250ml
Regular price $74.00 Sale
GOLDEN LINE - GINGER BODY GEL
A luxurious, highly advanced gel with 23 karat gold, silk proteins, lipolytic and firming and moisturising ingredients for an intensive body care.

Firms, tones, improves skins elasticity and helps reduce cellulite.

Leaves skin silky smooth, rejuvenated, radiant and toned. Can be effectively combined with the other Yellow Rose Golden Line Ginger Body products.
Using this Product:
Use daily as required: Apply to clean skin and massage gently until absorbed. Can also be used as a mask wrap for effective treatment of cellulite. Apply a liberal amount to targeted areas and cover with a plastics wrap cling film for 45 minutes to 1 hour.
Main Ingredients:
23 karat Gold Rejuvenating 23 karat Gold. Silk proteins Moisturise, firm and make skin silky smooth. Ginger extract Ginger is one of the oldest medicinal plants. Stimulates microcirculation and tones. Liposomes with Carnitine and Caffeine Caffeine and Carnitine act in synergy to increase firmness, elasticity, skin tone and have lipolytic action. A patented lipolytic mixture of Caffeine, Coenzyme A, and Bupleurum chinensis extract Fights cellulite by stimulating the catabolism of lipids, a process that empties excess fat stored in the adipocytes. Refines body contour and improves skin firmness. Liposomes with Escin Escin is considered to be the most important active agent of Horse-Chestnut seeds (Aesculus hippocastanum). It exhibits anti-inflammatory action and it is very effective in the treatment of cellulite by stimulating the blood microcirculation. Mixture of Ceramides and Phytosphingosine

Protects and helps moisturize the skin.

Silanol with Arginine

With firming properties.

Contains also

Rice proteins, Menthol derivative, Allantoin and d-Panthenol.