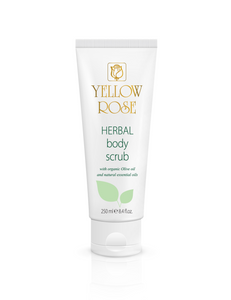 HERBAL BODY SCRUB - 250ml
Regular price $46.00 Sale
HERBAL BODY SCRUB
Exfoliating body scrub gel with Sugar crystals, herbal extracts and natural essential oils.

Content of 98% natural origin.

Cleanses and leaves the skin soft and smooth by removing surface dead cells and impurities. 

Prepares also the skin to receive the active ingredients of the other Yellow Rose Herbal Body Treatment products. 

Can be removed easily with a wet towel without the need of shower.

Avoid use on couperose and/or irritated skin.

NOTE: Due to the content of essential oils it is recommended to avoid use during pregnancy, sunbathing and on skin types sensitive to essential oils.

Can be effectively combined with the other YELLOW ROSE HERBAL BODY TREATMENT products.
Using this Product:
Use 2 to 3 times peer week. Apply to clean skin and massage with gentle movements. Remove the remainders easily with either a shower or a wet towel.
Main Ingredients:
Sugar Crystals Fine exfoliating Sugar crystals remove surface dead cells and impurities. Olive Leaf extract (Olea europaea) Extract made from fresh olive leaves. Exhibits powerful antioxidant activity (much higher than vitamin C and green tea extract). This is due to the synergy effect of the flavonoids, polyphenols and the high Oleuropein content, present in the extract. A powerful natural antioxidant from the Olive tree. Organic extra virgin Olive oil Considered as 'liquid Gold' by the ancient Greeks, Olive oil is a superior natural skin conditioning oil that moisturises, soothes and softens skin tissue. Rich in mixed triglyceride esters of essential monounsaturated fatty acids (oleic, palmitic and linoleic), squalene and natural phenols with potent antioxidant properties, it is considered to be highly nutritious and used for centuries in topical natural health remedies. Calendula or Pot Marigoldflower oil (Calendula officinalis) Flowers were used in ancient Greek and Roman cultures as a medicinal herb.They used to prepare an extract in oil to soothe, calm and protect the skin due to Phytosterol content. Everlasting or Immortelle (Helichrysum italicum) The name Helichrysum is derived from the Greek helios meaning Yarrow (Achillea millofolium) Used in folk medicine since antiquity. It was named after the Greek mythological character Achilles. Achilles' soldiers used Yarrow to treat their wounds. The plant has a long history as a powerful 'healing herb' used topically for treating wounds, cuts and skin irritations, due to its astringent and antiseptic effect. Main active compounds of Yarrow are the antioxidant and anti-inflammatory flavonoids: Apeginenin, Rutin, Luteolin and Kaempferol. Marshmallow (Althaea officinalis) Used extensively in ancient Greek medicine. The leaves, flowers and especially the root of Marshmallow have medicinal properties against irritations. These are reflected in the name of the genus, which comes from the Greek 'αλθειν' (althein). Bay Laurel (Laurus nobilis) Throughout antiquity and history, Bay Laurel was associated with victory, nobility, with wisdom and protection. In ancient Greece, Laurel was a symbol of highest status and was assigned to the god Apollo the god of healing, poetry and philosophy. The extract of Laurel leaves in olive oil (rich in nourishing fatty acids and vitamins A and E) is a traditional health remedy for skin care as it is an excellent emollient, skin conditioning and soothing agent. Dioscurides notes that crushed leaves if applied externally,'heal bee and wasp stings' and 'any kind of inflammation'. Myrtle (Myrtus communis) In ancient Greek mythology and ritual the myrtle was assigned to the goddess Aphrodite (Venus) and was symbolic of beauty, love and immortality. Myrtle occupies a prominent place in the writings of Hippocrates and Galen due to its healing effect. Dioscorides used the fruits as a remedy for the scorpion and spider venom.The extract is rich in flavonoids, phenolic acids and hydrolysed tannins with antioxidant, astringent and mild antiseptic properties. Sage (Salvia officinalis) The name Salvia derives from the Latin salvere Rosemary (Rosmarinus officinalis) One of the oldest medicinal plants, Rosemary grows around the Mediterranean seaside regions. The extract is an outstanding free radical scavenger (rosmarinic acid), protecting the skin from free radicals but also tones and promotes microcirculation. Rosemary is also often used in aromatherapy to increase memory and to relieve stress. Chamomile(Matricaria recutita) Chamomile derives from two Greek words: 'chamos' and 'melos', the union of which stands for Orange, Bergamot & bitter Orange flowers, leaves and buds essential oils An exquisite fresh blend of fresh Orange, Bergamot, Neroli and Petit Grain essential oils to invigorate and tone the body and soul. Mastic essential oil (Pistacia lentiscus) Mastic is a resin obtained from the mastic tree with a refreshing, slightly piney or cedar flavour. Within the European Union, mastic production in southern Chios island is granted protected designation of origin. Mastic essential oil is an excellent skin conditioning agent that contains antioxidants and also has antibacterial and anti-fungal properties. Mastic has been used as a medicine since antiquity and is still used in traditional folk medicine. Contains also Panthenol, Allantoin, Glycerin of plant origin and sweet Almond oil.