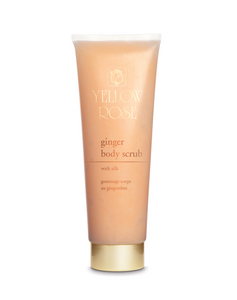 GOLDEN LINE - GINGER BODY SCRUB - 250ml
Regular price $45.00 Sale
GOLDEN LINE - GINGER BODY SCRUB
Gel-based, exfoliating scrub with Ginger and Silk.

Helps remove dead skin cells and leaves your skin feeling soft and smooth.

Prepares the skin to receive the active ingredients of body slimming and firming treatments and especially of the Yellow Rose Golden Line Body products.
Using this Product:
Use 1 to 2 times per week. Apply to clean skin and massage with gentle circular movements. Remove the remainders with water. Can be combined effectively with the other Yellow Rose Golden Line - Ginger Body products.
Main Ingredients:
Exfoliating micro-granules Biodegradable fine micro-beads for body exfoliation. Natural Ginger oil and extract Stimulate microcirculation and tone. Silk proteins Moisturise, firm and make skin silky smooth. Ceramides and Phytosphingosine Lipid molecules found in the bilayer cell membrane and have structural and effective role in cell life circle. They protect the hydrolipidic barrier of the skin and moisturise. Chamomile oil Used for its skin conditioning, soothing and anti-inflammatory properties. Jojoba oil Jojoba is a liquid wax highly penetrating and closely resembling human sebum. Emollient and moisturiser, soothes and treats damaged skin, leaving a non-greasy after-feel. Allantoin Nourishing, soothing and healing factor that helps restore damaged skin and has anti-inflammatory properties. D-Panthenol (pro-vitamin B5) Improves and increases the moisture retaining ability of the skin (long-lasting moisturiser), it has wound healing effect and improves the normal keratinisation of the skin.