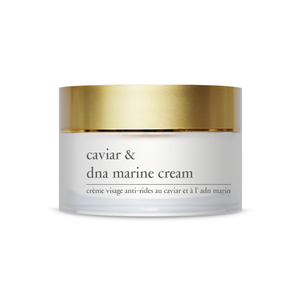 CAVIAR & DNA MARINE CREAM - 50ml
Regular price $64.00 Sale
CAVIAR & DNA MARINE CREAM
Anti-aging, protecting and revitalizing cream for stressed and tired skins. 
An exclusive and elegant treatment based on natural Caviar extract, DNA from salmon eggs and other revitalizing, nourishing and moisturizing ingredients. 
Provides 24hour protection to the skin, while it visibly reduces fine lines and wrinkles. Leaves the skin soft, smooth and radiant.
Using this Product:
Use daily morning and evening. Apply to clean skin and massage gently until absorbed. Can be combined effectively with other Yellow Rose Caviar and Marine DNA treatment products.
Main Ingredients:
Caviar extract From Sturgeon roe. Rich in trace elements, amino acids and phospholipids that help revitalise the skin. A natural active ingredient with anti-wrinkle and nourishing effect. DNA from salmon eggs Moisturises, nourishes and firms dry skin. Special "Retinol like" anti ageing Pentapeptide Contributes to reducing wrinkles and activates the natural synthesis of extracellular matrix macromolecules (collagen, elastin, glycosaminoglycans) in fibroblasts repairing and remodelling the skin tissue ("Retinol like" effect). Titanium Dioxide Natural Sunscreen Filter. Helps to prevent photo-ageing. Hyaluronic acid Highly efficient moisturiser. a-Bisabolol Is the major active component of Chamomile (Matricaria recutita) essential oil. Anti-inflammatory, wound healing, antibacterial and soothing for sensitive skin. Imperata Cylindrica extract Commonly known as cogon or kunai grass, (native in southeast Asia) it has been used for centuries in traditional Chinese medicine. The extract exhibits soothing, astringent, toning and moisturising properties Mixture of Ceramides and Phytosphingosine Lipid molecules found in the bilayer cell membrane and have structural and effective role in cell life circle. They protect the hydrolipidic barrier of the skin and moisturise. Contains also Centella and Cucumber extracts, Phytosterols, firming Wheat proteins, Vitamins (E,C and A), Jojoba oil, Avocado and Olive Oils, d-Panthenol (pro-Vitamin B5) and Allantoin.