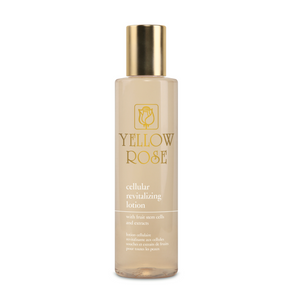 CELLULAR REVITALIZING LOTION with Fruit Stem Cells and Extracts 200ml
Regular price $28.00 Sale
CELLULAR REVITALIZING LOTION
Moisturising and soothing lotion (alcohol free). 
Tones and refreshes the skin with a blend of protective and revitalizing Fruit Stem Cells and actives.
Can be effectively combined with the other Yellow Rose Cellular Revitalising Fruit Treatment products.
Suitable for all skin types
Using this Product:
Use daily morning and evening. Moisten a cotton pad with the Yellow Rose Cellular Revitalizing Lotion and gently sweep over cleansed face and neck.
Main Ingredients:
Fruit Stem Cells Obtained from a rare Swiss apple (Malus Domastica) and encapsulated into Liposomes. Their main role is to protect and create an ideal environment of action for the epithelial skin stem cells. Therefore they ensure the self-renewal of skin tissue and gradually they combat signs of ageing. Natural Fruit extracts (Pomegranate, Grape, Mellon, Kiwi and Mango) With antioxidant and soothing properties. 2 types of Hyaluronic acid (high and low molecular weight) The LMW (Low Molecular Weight) Hyaluronic Acid penetrates the skin along with water that absorbs and moisturises the deeper skin layers. At the same time it aids the restructuring of the skin. The HMW (High Molecular Weight) Hyaluronic Acid strongly moisturises the external skin layer leading to increased skin elasticity. Betaine (Trimethylglycine) moisturising amino acid from Sugar beets. Trehalose Natural disaccharide with remarkable moisture retaining capacities. d-Panthenol (pro-vitamin B5) Improves and increases the moisture retaining ability of the skin (long-lasting moisturiser), it has wound healing effect and improves the normal keratinisation of the skin. Allantoin Nourishing, soothing and healing factor. Helps restore damaged skin and has anti-inflammatory properties.